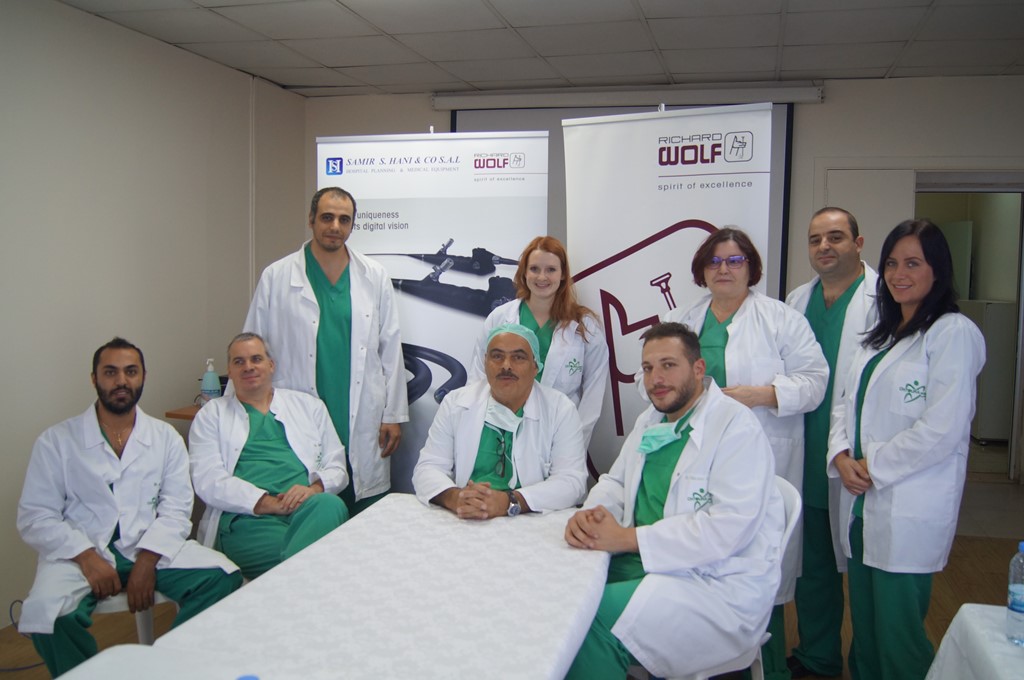 In the framework of improving and developing the medical and healthcare services, the administration of Chtoura hospital hosted a medical delegation representing the German Arab Medical Association for Urology Surgery for a three-days workshop (28th till 30th of October 2017). The delegation included Professor Schahnaz Alloussi, Dr. Christopher Lang, Dr. Tayssir Sayegh and Dr. Mohamad Tinawi, as well as a highly experienced team of nurses.
The visit aims at increasing the international expertise in the Urology Surgery.
The German medical team, in collaboration with the medical team of Chtoura hospital, performed, free of charge, more than 60 preselected surgical operations requiring international expertise. They included laparoscopic surgeries, intracorporeal LASER lithotripsy for removing kidney stones, LASER tumour excisions, the removal of a 20cm cyst as well as a cystectomy with a bladder reconstruction using stomach tissue which is considered as a very distinctive type of surgery.
The administration of Chtoura Hospital strives to enhance its medical services, to increase the levels of the medical and nursing staff, and most importantly the use of modern medical equipment.
Samir S. Hani & Co SAL was proud to sponsor this event and to ensure state of the art equipment along with a professional team of engineers who assisted in the operations participating in the success of the event.
Among the used equipment:
LITHO: a 35 W (5j / 30Hz) Ho:YAG LASER for stone dusting, stone fragmentation, soft tissue ablation and coagulation
Spectrum: a 400 W electrosurgical unit with special bipolar vaporisation capability for safe prostate and bladder resections
Shark: innovative safe & ergonomic Resectoscopes
Cobra: unique double channel flexible Uretero-renoscopes
Lahme Mini nephroscope